Have been waiting a good deal and definitely didn't expect it to land here so early, but as I mentioned my laptop arrived yesterday.
And as I was really anxious to get started on it, I called up Dell and asked them to send an engineer over today itself.
He came over and completed the installation and checked the entire system. Dell has a nice diagnostic CD that checks everything.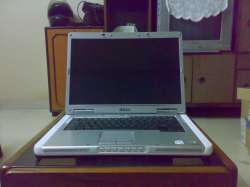 Windows Vista Home Basic Edition seems to be decent so far.
I was a little irritated that the C: is 100GB and the inbuilt shrinker didn't work. It's great that I will have (in another 12 hours) an external 120GB hard drive and a 2GB pen drive.
That's a picture to the right. And here is the configuration.