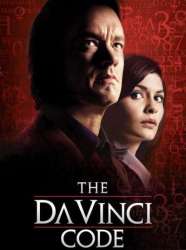 When respected American religious symbology expert Dr. Robert Langdon (Hanks) is summoned to the Louvre by the French version of the FBI, led by Captain Bezu Fache (Reno), he soon discovered that he is the #1 suspect for the murder of a historian Langdon had been scheduled to meet with.
Assisted by a French cryptographer and government agent named Sophie (Tautou), Langdon is challenged to decipher a chain of cryptic codes and puzzles, all the while trying to stay ahead of Fache's lawmen in a chase through the Louvre, and out into the Parisian cityscape, and finally across the channel to England.
Can Langdon and Sophie decipher the nature of a secret dating back to Leonardo Da Vinci and earlier before those responsible for the historian's murder add them to their hit list?
Almost everyone has read the book, so expect a few spoilers in this review.
Unfortunately, like most movies based on a book, this one failed to deliver.
Tom Hanks is a real disaster. He continues through the whole movie with hardly any expressions. I guess everyone expected a lot from him, but
Ian and Reno are saving grace in the movie. Andrea is cute, but she too can do with some expressions.
One good scene where Silas floggs himself. It actually made me winch in pain!
The final scene where Robert kneels down over the pyramid is also beautiful.
Will also compliment the soundtrack. Hans Zimmer has done a fantastic job as usual!
Inspite of this, the movie wasn't very impressing. It was long drawn, over two and half hours. The movie was generally boring and didn't have the pull of the book.
One really funny thing was the disclaimer that had to be put. It read something along these lines:
All characters are purely fictional. Any resemblance to the past or of any characters is unintended and fictional.
How many Jesus Christs and Mary Magdalenes have you heard of?
My score: 6/10
(Visited 156 times, 1 visits today)