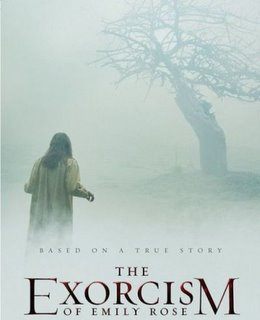 A young girl (Jennifer Carpenter) dies under the care of her parish priest (Tom Wilkinson). While attending college, Emily believed she became possessed. After medical care ceases to work, she turned to her faith. In the care of her priest she dies and he goes on trial for her death. He is represented by a career-minded and driven lawyer (Laura Linney) who does not believe in God. Thus is the story of Emily Rose, told by those in the trial and the priest who watched her through her possession.
Caught the 11.25pm show of the movie. Chose specifically to go at night just to enhance the effect.
The movie turned out to be rather moderate, but I was really really impressed by Jennifer's spectacular acting.
The movie was well made. Special effects were rather good, and so was the sound.
What I really liked about the movie was that it was made really easy to understand, even for those who are rather new to exorcism (well I'm sure many of us are) as well as the Christianity.
Only thing that was disappointing was the abrupt end to the movie. Maybe because it is based on a true story. It did leave us wanting more.
Would have rated it a 5/10, but Jennifer's performance pushes it to 7.