Bad news first…
Had a sore throat a few days back. Thought, it would get ok, but far from getting ok, i woke up yesterday with fever. Went off to my doc but for the cold and cough getting worse.
Set off for work this morning, but by the time I reached Powai, just felt really ill, so turned my bike and came back home. Went once again to my doc and am a lot better now, as I post this. Hopefully, I should be able to go to work tomorrow (can't afford to stay home so much).
Will be most probably going by bus from January onwards, and may drop the idea of shifting to Navi Mumbai, since my parents aren't really keen on it.
Now for the good news. My new Nokia 6230 has finally arrived! The cell sure rocks. Besides being very sleek looking, it has an umpteen amount of features. Always thought my Nokia 6610 rocked, but it really pales in comparison to the 6230.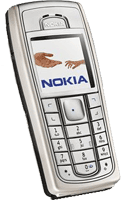 Key features of the phone are:
Video recorder and player
Digital VGA camera
Active TFT color display
Bluetooth wireless technology
Streaming video and audio
Music player for MP3 and AAC files
Stereo FM radio
EDGE and GPRS
MultiMediaCard (MMC)
Full list of features is listed here. And, for those interested in how much I paid for it and where I got it, please check this page.
Am still waiting for the datacable and my 512Mb MMC. Should arrive in a few days. So, had to spend a good deal of my time transferring my phone book from the 6610 to the 6230 via Infrared.
Got GPRS activated on my cell-phone today. Have decided to try it out for the current month, and then see whether I wish to continue using it or not. MMS works, atleast when I send it to email addresses.
Haven't been upto much otherwise, just been sleeping whole day. Going to bed early now, as I need the rest.
(Visited 215 times, 1 visits today)