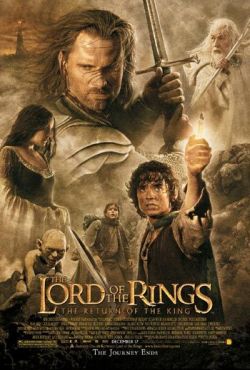 Having won the tickets from Go 92.5 and having convinced Melody to go with me, I had the opportunity of going for a private screening of The Lord of the Rings: The Return of the King at Eros Cinema in Churchgate, on Feb 5, i.e. one day before the actual release of the movie in cinemas here.
To begin the day, I went off to college to drop off our (Nikhil, Saurabh and me) paper for submission to the R10 Paper Contest to be held at Malaysia. Next went to Nikhil's place and worked on a C program for DFT.
Then I went to pickup Melody for our journey to the movies. As usual, she looked extremely gorgeous and who wouldn't want to spend their evening with such a beautiful girl?!
With a little bit of searching, we finally found the Go 92.5 office and picked up the tickets. I also got to meet Kobad, who is the producer of Go and was also astonished (I know I shouldn't have been) when I realized that Melody knows him quite well.
Anyways, next continued the long journey to Eros. Got there before time and ate sev puri & pani puri just outside Eros (I am learning new things about Melody) and then went in for the movie.
The screening was at the mini-theatre and ofcourse with a small handful of audience. The theatre was cold (Note to myself: wear sweater when going for movies) but then again, the movie was entertaining.
Unlike my other "movie review posts", I will not review this movie. Just state that it is a must-go-watch movie, but only if you have seen the first two parts.
Sadly, keeping in the tradition of most other trilogies, this movie too lacked the fire of the first two. Like The Matrix, the LOTR trilogy had an excellent first part, an even better second, and a mediocre third.
Then again, being a loyal LOTR fan, I really enjoyed the movie a lot. The filming is exceptional and Peter Jackson has done good justice to the novels.
I just wish it was a little shorter, because we sat straight 3 hours through the movie without a break (Thank God, Mello decided to buy the sev puri and popcorn before the movie). The audience gave the movie a big applause at the end (was it because of the movie or because it ended?). Can't blame them, the movie seemed to stretch at the end, with a new scene everytime we thought it ended.
But, like I said before, go catch it on the big screen for a fantastic experience!
Enough of LOTR, the trip back home was real fun, because Mello decided to sing her heart out (not to mention she kept screaming "It's Cold!" to passers-by) just so as to forget it is cold. Sadly, dinner couldn't be done because we reached her place only by 11 pm and I had to be getting back home. Thankfully, she lent me a jacket, which despite being small, kept me nice and warm on my journey home.
On a sadder note, I may not be meeting her for a good three months, as I have to begin studing for eigth sem. To add to this, Madam A messaged me to tell me shes ditching me for the ball-room dancing to be held at my college festival SPACE. (I should get used to this now). Dunno if I will be going for it.
The Journey Ends!
(Visited 392 times, 1 visits today)