Decided to look back into my blog to figure out when I had last posted and let's just say that it was a long long time ago!
So, am going to make a quick post to tell people that I am still alive and kicking; ok, not kicking…
The past month has been extremely busy with longer days and even longer nights. But, that's work.
On the personal front, I finally got the chance to catch Inception. This time the theatre we caught it at the Cineworld theatre in O2 Arena.
The break was well enjoyed, though we spent a good time actually getting to the place! We got onto the DLR to head toward Greenwich, only to realise that we had to get to North Greenwich, which is on the Jubilee line. As expected, the Jubilee line was down, but we thought that we'd be able to get a bus to the O2, only to find out that one of the buses that goes to the O2 passes through Greenwich. So, we headed back to the DLR station and headed off to Greenwich. After a good deal of searching and an equal amount of walking, we found the bus stop and I enjoyed my first bus-ride in London.
The O2 arena has been built really well with a host of restaurants, the stadium, games areas, a roller-skating rink and of course, the movie theatre. We bought the tickets and settled in at Nando's for food. This is one place I haven't gotten fed up of the food.
The movie was spectacular. I don't know when I will actually get down to writing a full fledged review of the movie, but the ending was excellent, though I did expect it. The best part of the entire movie was the concept. The special effects were good, especially the last 30 minutes or so.
The best part of the day was the return journey. Because the DLR was down, boat replacements were put in place from the O2 to East India, which we took full advantage of.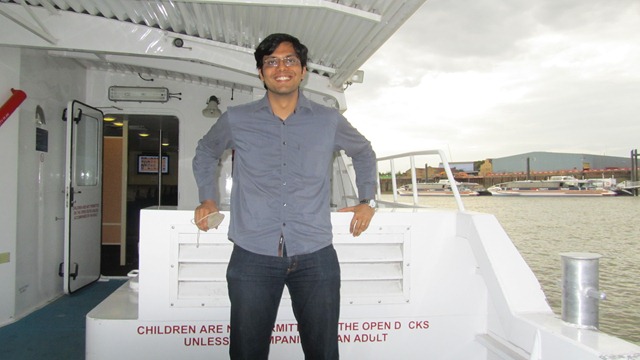 Was at work today and this week promises to be as work filled as ever. So, am hoping to see if I can get a post across next week.