The last few days were spent meeting people.

Met Sneha on Wednesday for dinner. Dinner was at the Happy Singh, which is a part of Pop Tates. Decent enough joint, but the long island iced tea was ice tea!
I met up with Ramya for tea on Thursday at Crepe Station in Lokhandwala which has recently opened. IMO, while the place is decent and the food too, it is over priced. So, you need to pick and choose what you would like to eat. The conversation resolved around blogging, writing, education and a bit of food.
Paid a visit to the Airtel "relationship center" in Bandra. The relationship center is a real joke because for any support you need to call up the customer. For all users of Airtel, make sure you check your bills carefully. I was billed Rs. 100 for downloading two games which I never did and more, don't even know to download from where. This isn't the first time I have seen Airtel incorrectly bill users. Had to yell at the customer care dude who promised that it would be rectified in 24 hours. I am totally clueless as to which planet this 24 hours belongs to. I have decided to discontinue this account. I'm not sure which is worse, Airtel or Reliance! At least Reliance didn't try to bill me incorrectly!
We also went over to the Vodafone center, which in my opinion is a much better service. I guess that is what differentiates a multinational company than a company run by a bunch of greedy Indians. I guess this is one of the things that pisses me off about my country. If this was the US or UK, you could take the company to court and win! Out here, you don't have the years of your life to do that.
Caught the late night show of Ghosts of Girlfriends Past at PVR in Phoenix Mills.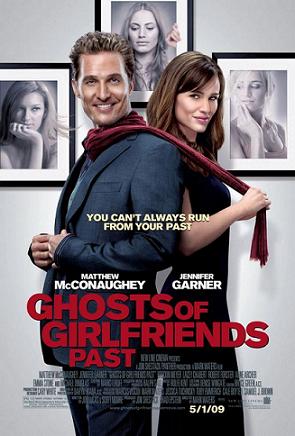 I stayed over at her place and we returned home the next day. I spent the last few hours at home getting an haircut and a shave. Set off for the airport to catch the Go Air flight to Bangalore.
The flight was perfectly on time, unlike on my journey to Mumbai. Mumbai looks really beautiful from the air and even better at night. The new Bandra-Worli sealink has beautified the landscape and it was my first view of the link.
If you haven't seen Mumbai from the air, then check out some beautiful pictures of the same. But at night, it is even more beautiful. I could see the entire shape of South Mumbai. The journey was comfortable except for the occasional bit of turbulence that we faced.
The Airlift that I had booked was already at the airport. I had to wait a while for the remaining passengers and we headed back. Reached home in about an hour. Did a bit of blogging and then went off to sleep.
And, Monday, work began as usual!
However, Monday was a bit eventful. Vincent managed to get the road tax for my bike done on Saturday and so we set out on our bikes to the Bajaj Service Center which is in HSR Layout. They did a good job on the bike and it is running beautifully! We both headed home after work at about 12am and I froze in the cold. Didn't have my jacket, but I also realized that I need to pick up a thicker jacket.
Yesterday, I was the only person in my cab so I reached home rather quickly 🙂
(Visited 340 times, 1 visits today)