After one rather tiring week at work, I was really looking forward to this weekend.
But, before that on Thursday, I had plans to leave by two but so tied up with work that I actually left at five. Anyway, got back home and did a lot of housework. By a lot, I mean sweeping and swobbing the entire house, cleaning the bathroom and toilet, washing, hanging and folding a good amount of clothes and last but not the least, washing the kitchen platform! :O (aspiring brides please disregard the entire paragraph)
And on Friday, my parents and bro were back from Kerala. Finally, because I was getting really fed up of the housework (aspiring brides disregard this paragraph as well). Need I say why I wanted the half-day on Thursday?
Also brought back some work to do at home over the weekend. Didn't manage to do it mainly because my weekends are way too packed.

Headed to Bandra to catch Ring 2 at Suburbia. But, on the way, a rickshaw driver (they all need to learn to drive) decided he needed to change lanes near the JW Marriot. I braked, lost control, skidded, struggled with the bike and finally fell. Praise the Lord that nothing major happened. I got a bad burn as my leg hit the exhaust.
Stopped by at a chemist to pick up some medicine as I hurt badly. Then as normal, headed off to Suburbia, only to find that the movie had a full house.
So, we decided to stop off at Shoppers Stop, which is on the same premises. Didn't know what to do so we headed to their Denim section. And, I found a nice pair of Lee jeans. Paid a bomb and purchased them. That's sudden shopping, something I never indulge in.
As we headed down and out of the place, we passed the Lakme counter and Chris found a shade of lipstick and liner that she liked. Though I keep telling her that she looks simply fantabulistic no matter what she wears, we still bought it.
Then went to Melody's house. We had plans to watch Star Wars Episode III evening show, which didn't really exist. Sometimes, I just hate the Times of India. And since she ditched me for our dinner plans, I had no option but to head for home 🙁
But, met up with Rhea on the way home and we went for a Chinese dinner to Lom Chings. Reached home and worked on releasing Bad Behavior Stats Plugin 1.2.
End of one really unplanned Saturday!
Woke up early this morning and went for the 8.30am mass for which we were singing. Was rather sleepy and the readings didn't really wake me up.
We went for breakfast to Garnish after that and then I headed a quick stop at home after which, I went to meet a friend.
We watched Ring Two at Suburbia.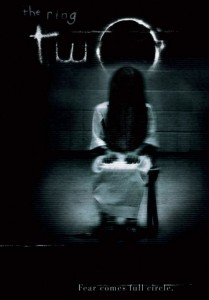 Rachel Keller (Naomi Watts) and her son Aidan (David Dorfman) have relocated to the quaint mountain town of Astoria, Oregon, where Rachel has found a new job at the local Astoria Gazette, working alongside reporter David Rourke (Simon Baker). The discovery of a local teenage homicide whilst scanning the electronic Astoria Police archives prompts Rachel to uncover the truth behind it. Before long, Rachel has linked the homicide to the mysterious video tape. When Rachel is within reach of uncovering the secret, she finds and then destroys the killer videotape. Bad move. Soon after, Aidan is hospitalized; unconscious, perilously cold, and bruised. Rachel suspects this is the act of the vengeful ghost Samara Morgan, but the local physician, Dr Emma Temple, suspects otherwise. Having being blamed for child abuse and looking guilty as sin, Rachel returns to Seattle to dig deeper into the past of the ghostly Samara whom is apparently trying to re-enter corporeal existence by using Aidan as a conduit/host. Will the secrets Rachel uncovers solve problems, or will they end more lives?
Yet another sequel, and yet another sequel not as good as the first! Was scary, but not scary enough. Had yet another solved ending (like the first). But, will it really remain solved?
Had spent a good deal of time debugging the hardware of my PC. For some reason, computer problems are really haunting me for a while now!
The comp worked fine after I receiving my golden touch :D!
The blog is finally updated now. I've had one very eventful weekend and it is finally back to work tomorrow 🙂