I've uploaded the latest update of Top 10 and current users of the plugin should be able to see the update within their WordPress Dashboards now. This release adds a few new features that have been requested by users of the plugin.
A key feature addition is the replacement of the single column in your "All Posts" page with two separate columns for Total and Daily respectively. You can also sort the columns by highest or lowest count.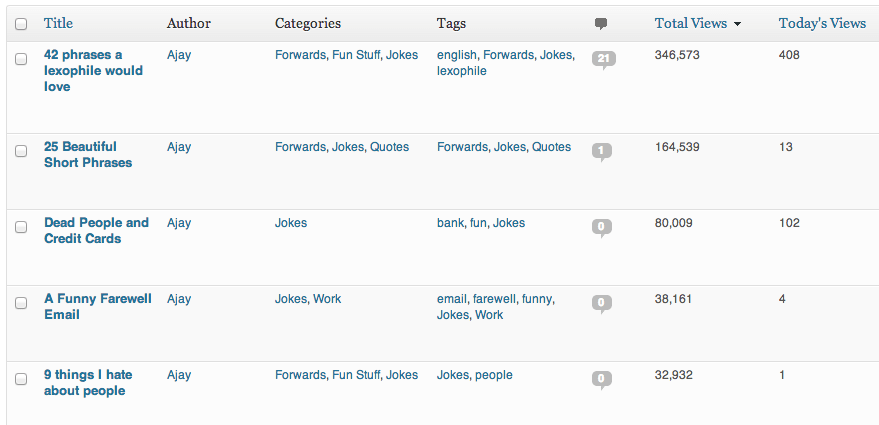 Few other changes include an option to include the author in the list item. The last update had the option to add the date and the author was the next on the list. The other changes are below.
As usual, if you have any bugs to report, please use the WordPress Support Forums. Due to the volume of requests it is just not possible for me to entertain any support queries via comments, email or Twitter. If you're a current user and love this plugin, do consider leaving a good review and maybe even a small (or big) donation.
Changes in Top 10 v1.9.8.2
New: Option to add author
New: More options for the Widgets to configure the post lists
Modified: Shortcodes are now stripped from excerpts
New: Added s3.amazonaws.com to list of allowed sites that timthumb can fetch images from
Fixed: Counter was not always displayed on posts
New: All Posts / All Pages have separate sortable columns for total and daily counts
Fixed: Warning messages with WP_DEBUG mode ON
(Visited 291 times, 1 visits today)