The last update of Top 10 broke the number of days used when displaying the list of daily posts. v1.9.8.3 now fixes this bugs and also includes some other minor changes. I've also fixed some of the initialisation errors in the Top 10 widget.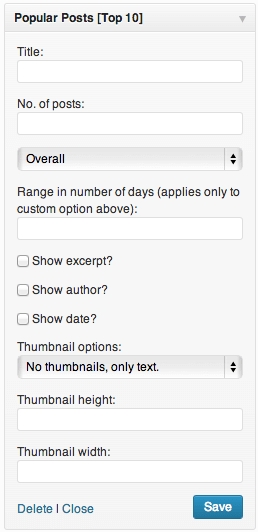 As usual, if you have any bugs to report, please use the WordPress Support Forums. Due to the volume of requests it is just not possible for me to entertain any support queries via comments, email or Twitter. If you're a current user and love this plugin, do consider leaving a good review and maybe even a small (or big) donation.
Changes in Top 10 v1.9.8.3
Fixed: Daily count was selecting an extra date when using the widget
Fixed: Default settings for the widget weren't initiated correctly in some cases
Modified: Admin columns of Total and Daily views will be sorted by descending order by default. Click again to sort in ascending order
Modified: Admin columns are fixed to 100px width by default instead of auto.
(Visited 301 times, 1 visits today)