Today was eventful, in the sense that I finished the application work of two more colleges, viz. NITIE and MDI.
I still another 4-5 colleges left to apply to which should be done by next week.
Before that met up with pals in Powai. We intended to go to Pizza Hut, but dropped the idea because of the long waiting time. Did I mention that I hate waiting for my food?
We ended up eating Alu Parathas at Galleria in Powai. (I always forget to take pics!)
After this I dropped in at NITIE. It happens to be an extremely peaceful and beautiful place with a good amount of greenery and just overlooking Vihar Lake.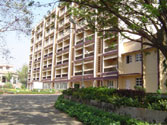 The people in the admissions office were also nice to interact with and submitting the form was extremely simple. I like quick and simple processes. Getting in there is going to take some effort however.
Spent the rest of the day at home. Ex-colleagues called up today, which was surprising. It's nice people still think about me 🙂
Tomorrow will be all study-study as well as more form filling. Sunday is the usual AIMCAT, the last one before the CAT.