Over the Christmas break, I spent quite a bit of time rationalising my WordPress plugins including closing several plugins which I decided I won't be updating, especially those with very lower viewers.
I'm hoping to be a bit more regular in updating my WordPress plugins this year and also fleshing out a much pending documentation for all of them.
I've managed to be fairly active on the updates and I updated four plugins since the start of the year. All these have had their respective release posts on the WebberZone blog. If you're here for just my plugin updates, I recommend subscribing to the newsletter there.
Better Search
I released Better Search v2.2.1 on 20th January. This is a very minor update to fix a few bugs and compatibility issues.
Read the release post for Better Search v2.2.1
Contextual Related Posts
I released Contextual Related Posts v2.5.1 on 26th January. This was also minor release focussed on a few bug fixes/modifications. The only key feature addition was a new option to disable the creation of thumbnails and add srcset and sizes attributes to them.
My main focus for Contextual Related Posts v2.6.0 is upgrading the current settings interface to use the Settings API which I have already done for most of my plugins. This will be a major release and given the large user base of this plugin (60,000+ users, I've delayed this for a long time.
Read the release post for Contextual Related Posts v2.5.1
Top 10
I released Top 10 v2.6.0 on 10th February and a subsequent fix (v2.6.1) a day later. This was a major release with several new features, particularly focussed around the tracker and thumbnail.
The thumbnail changes were same as those for Contextual Related Posts as mentioned above. The tracker now loads in the footer and you can also choose to have this loaded on all pages. You can also turn off number formats wherever the count is displayed.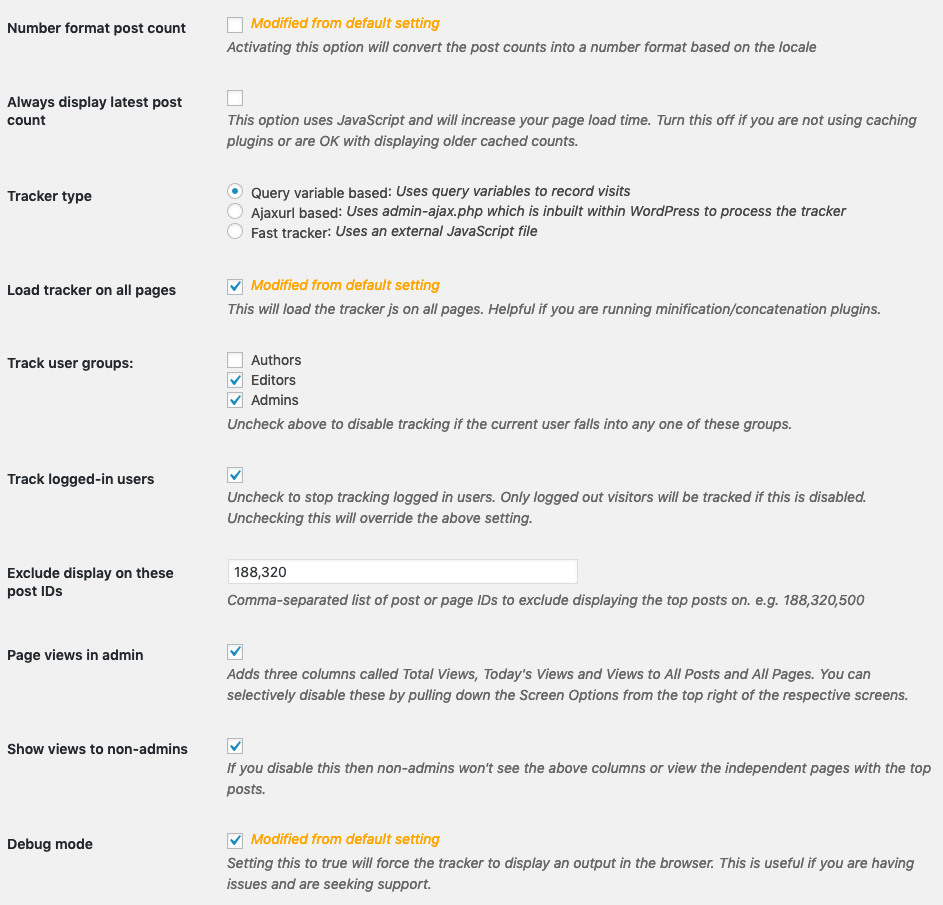 Read the release post for Top 10 v2.6.1
Knowledge Base
I released WebberZone Knowledge Base v1.7.0 earlier today. The main addition to this version is the shortcode [kbalert] that allows you to create an informative message / alert box in your content similar to Bootstrap.