Add to All now has a new home at WebberZone. Check out the dedicated page and access support.
Add to All is a simple, yet powerful WordPress plugin that will allow you to add HTML, JavaScript or CSS to your header, footer, content or feed.
It comes with out of the box support for Google Analytics, Statcounter and Tynt. Additionally, it supports site verification for Google, Bing and Pinterest via their HTML tag methods.
If you have any script that isn't supported by Add to All currently, you can just add the code to the Header, Content or Footer sections.
Add to All includes a copyright notice that can be automatically added your feed. Additionally, you can also add in a link to your post as well as any other HTML or text that you might want.
With this plugin installed, you do not need to edit your theme files every time you switch themes.
Features
Inbuilt support for Google Analytics, Statcounter and Tynt
Site verification for Google, Bing and Pinterest
Add custom CSS code to your header
Add any HTML or JavaScript code to your header, content, footer and feed
Add a copyright notice and a link to the post in your site's feed
Tonnes of actions and filters to easily extend the plugin.
Requirements
WordPress [plugin requires] and above
Installing
WordPress install
Navigate to Plugins within your WordPress Admin Area
Click "Add new" and in the search box enter "Add to All" and select "Keyword" from the dropdown
Find the plugin in the list (usually the first result) and click "Install Now"
Manual install
Download the plugin
Extract the contents of add-to-all.zip to wp-content/plugins/ folder. You should get a folder called add-to-all.
Activate the Plugin in WP-Admin.
Goto Settings » Add to All to configure
Screenshots
Below is a screenshot of the Header options available in the Settings screen. You can view more screenshots here.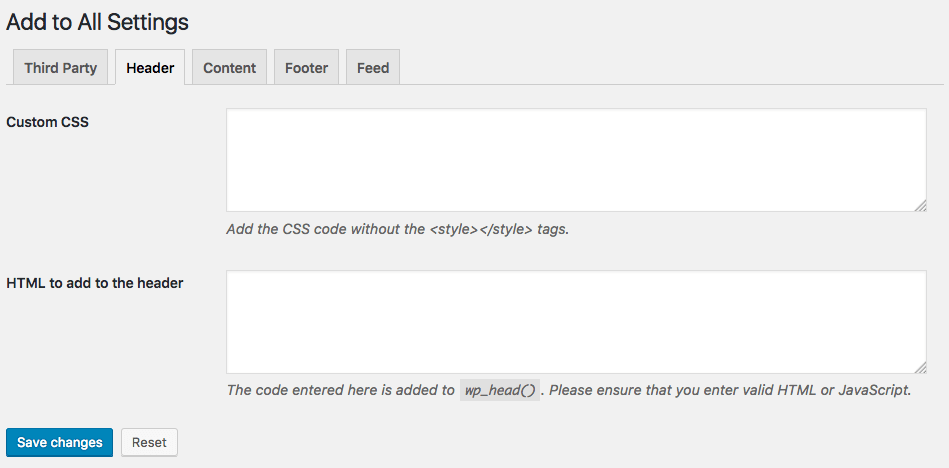 Changelog
Details on the Github releases page.
License
All files and their contents are licensed under the GNU General Public License (GPL).
Questions or Bugs
If you have any questions or would like to report any bugs, please use the support forum.
Downloads
Download Add to All
[plugin link text='Page on WordPress.org']
(Visited 6,844 times, 1 visits today)