Well, I'm exhausted!
It's been a week and once again I haven't had the time to blog. Last Saturday, the 4th was a rather eventful day. Something that will remain in my memory for a long long time. And I won't mention why 😉
In the evening had the "Fiesta Night" in church. The legendary band Crimson Rage were called to play. The only reason I went was because I heard that they mainly play ballroom music. They didn't give me reason to complain.
The music was simply fabulous. Unfortunately only till 10.30. Food was horrid, but then you can't expect much for 150 bucks, can you?
Took a walk with Madam A (who was my date for the dance) after the dance before saying good night.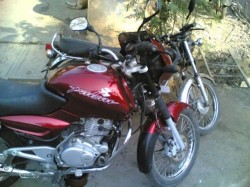 Sunday was devoted to the love of my life. Yes, you are right my darling Flame. Had neglected her for quite a while and made sure I made up in full 🙂
Got the bike serviced locally (I was totally fed up of Sai Service) and the guy did a fabulous job. Got the bike diesel washed, polished and also got the seat cover changed and laminated (the pic is before I did that).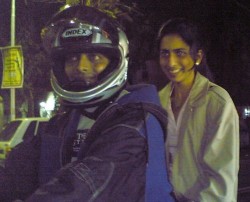 This took up pretty much the most of the day. Went for the wedding mass in the evening and then went out with Austin, Grenda, Madam A and her cousins and some friends to Bandra. Went to Adi's near Mt. Carmel's for kababs. It's a small joint but good stuff.
Dropped Madam A home after this and went to bed in preparation for a long week ahead.
The long week was long indeed. Couldn't make it for choir practice or prayer meeting. Took an off on Wednesday, was able to go home early on Thursday and stayed past 8pm on Friday!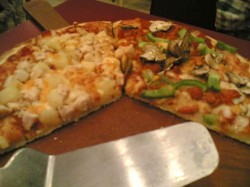 Went with Melody to watch Fun with Dick and Jane. Visited the Pizza Hut in Lokhandwala before the movie for a quick pizza. And I finally found someone who eats more pizza than me! :O
Reach home at 2am and was so zonked that I actually thought I would fall asleep on the bike! I-)
Woke up around 8am as usual. Madam A came over in the morning for a while and after she went I fell asleep again. Slept for more than four hours. And finally got down to blog.
No clue on what I will be doing tomorrow. I really need get up and go out !