Connections Reloaded is a two column, fixed width theme derived from the Connections theme by Patricia Müller.
Connections Reloaded is highly rich in features. A non-exhaustive list follows:
Theme options page to quickly configure the theme. Includes some basic settings, comment below to tell me what other settings you would like to see. Current options are:

Header options:

Favicon
Feedburner / Custom feed
Customisable list of pages to display in the header menu
Any custom code you want

Content options:

Choose if you want to disable the display of tags on homepage / archive pages etc.

Footer options:

Support for gravatars
Support for widgets (custom widgets are included). Access it from Appearance > Widgets
Custom header images. Access it from Appearance > Custom Header
Themes don't write themselves, people do. Developing a theme is a time consuming process. As a strong believer in open source, Connections Reloaded will always be released under the GPL license.
If you are running this theme on your blog, do consider a donation.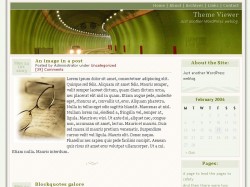 Please post any bugs / support requests at the Support Forum.
All files and their contents are licensed under the GNU General Public License (GPL).
Download Connections Reloaded 3.1
(Visited 23,127 times, 1 visits today)