It's been over three years since our last visit to India. We had a great time in Pune and Mumbai with our family and friends. A lot has changed since then. The world has gone through a pandemic, we have become parents to a beautiful baby girl, and we're three years older but not greyer.
Ashwina and I felt a mix of excitement and nervousness as we prepared to return to India with our little one. How would she handle the long journey from London to Pune, which would take over a day? How would she adjust to the different weather? How would our relatives and friends react to her? These were some of the questions that ran through our minds as we prepared for our trip. This is the story of our India Diaries 2023: Return with Innocence.
We hope you enjoy reading our story more than we enjoyed living it.
Before the flight
We had a lot of luggage to carry, mostly for baby. She needed a travel cot, a pushchair, a car seat and several outfits and toys. I was happy to share my suitcase space with my wife and daughter, as I didn't need much for myself.
There was a weather forecast for snow on the day before we were due to fly. This ended up moving by half a day and We woke up to a thick blanket of snow covering everything. We were lucky to find a cab that could fit all our stuff and drove us safely to the airport.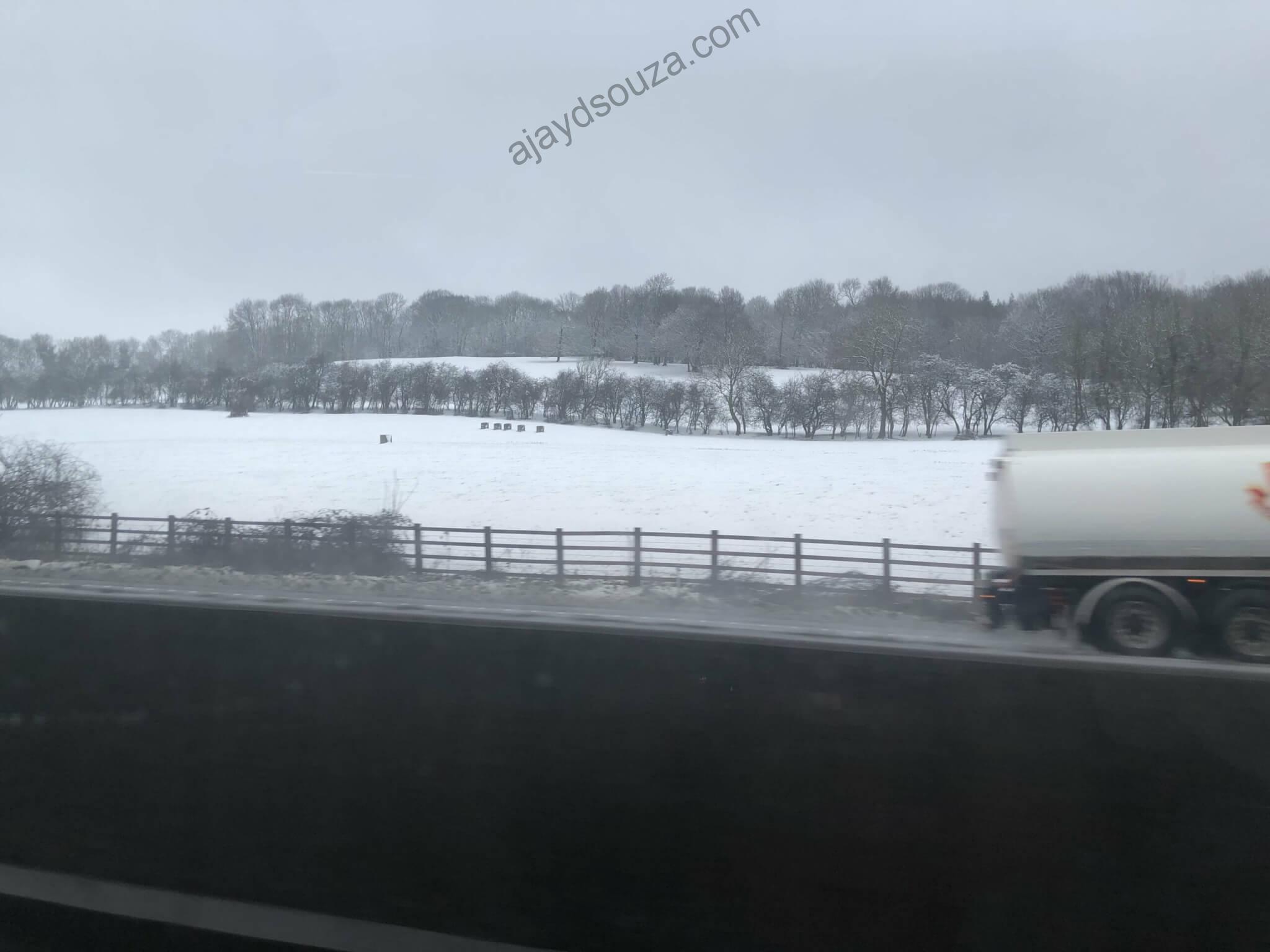 The check-in process was smooth, but the security check took a long time – about an hour and a half. If you're travelling with a baby through Heathrow Terminal 5, our tip is to order baby products like formula at the Boots store after security. You can get more quantity there. Also, give yourself enough time to go through security, as they scan all the baby food pouches carefully.
The flights
The BA flight from London to Bangalore was uneventful. Baby was a star. She slept for some time and played for the rest. Ashwina and I managed to get some sleep and eat our meals.
We landed in Bangalore at around 5am. We had booked a SpiceJet flight from Bangalore to Pune that was supposed to leave at 10.30pm, but we got an email a day before saying that it was delayed by 2.5 hours. When we got to the gate, we found out that the flight was delayed even more and nobody knew why.
There were many angry passengers who shouted at the staff and cancelled their tickets. We boarded the flight at around 6pm, after spending more than 12 hours at the hot and crowded airport. Ashwina did a wonderful job of keeping baby fed and happy. Our flight to Pune ended up being half-empty because of all the cancellations. I didn't bother with a porter for our luggage in Bangalore, but I got one in Pune. This turned out to be the right decision as the Uber pickup spot is a long distance away on foot, in a terribly small lift.
We got home completely exhausted and so put baby to sleep before crashing for a long night's sleep. More than 30 hours from door to door.
The run-up to the birthday
Unfortunately, about two days after we landed, baby fell sick. It was a random bit of throwing up and so we decided to take her to the emergency department at Cloud9. We got seen quickly and the doctor prescribed a few medicines for baby that would at least help keep her food down. While it seemed to work temporarily, it didn't go away and so we took her to a paediatrician recommended by Akshat who also prescribed some other medicines to help with her.
She did get better over the next few days but we think it finally worked when Ashwina's mum called up her grandaunt and go a home remedy which worked wonders. Or it was the new A/C we installed or maybe baby decided she gets better ahead of her birthday!
On one of the days, I managed to catch up with Rhea and we grabbed dinner at Koji, a pan-Asian restaurant at the Conrad.
The birthday
Besides the reward flights, one of the main reasons we picked our trip in March was to celebrate baby's 1st in India, in particular, Pune.
Ashwina had made all the arrangements with Saby so all baby and I had to do was to fashionably show up on the day.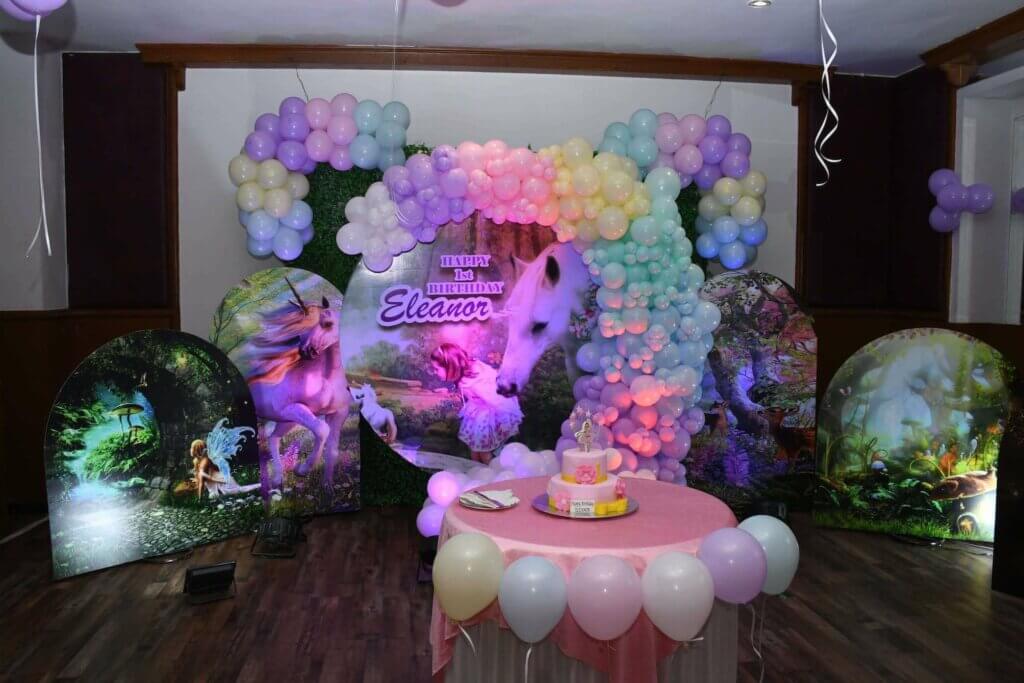 The party was fantastic. A lot of music, a bit of games and a tonne of photos. Ashwina's sister Rina and her daughter Samara had specially come down for the birthday and am pleased to report that both cousins got on like a house on fire for the next two days.
To Mumbai
The rest of the holiday in Pune was almost a blur. Unfortunately, Ashwina picked up a bug mid-week and so did baby. And this made the week run by very quickly.
I made a day trip to Mumbai in the middle of the week to complete bank work, order new spectacles, and visit my grandma, uncle and aunt whom I hadn't seen for over three years.
I had hired a car to take me there and back. Keeping in line with the rest of the holiday, as we reached Navi Mumbai, the car started to give problems. Luckily my driver had family living there and he swapped his car for another one while his family took care of fixing his car. Unfortunately, this took a long time even after my work was done and we only reached Pune at 10pm.
I caught up with Akshat on the penultimate day of our stay in Pune at 24K Kraft Brewzz for a pint and some food. Must say that I was quite impressed by the views and the booze.
Finishing at Bangalore
On the Sunday before our flight back to London, we headed to Bangalore with Ashwina's mom. SpiceJet had cancelled our flight and we ended up buying tickets on Akasa Air, which cost a lot more. SpiceJet is now on our blacklist.
The experience with Akasa Air was very good. They flew on time, the aircraft was new and the food was good. My only complaint was that they didn't have infant seatbelts despite knowing that they had an infant on board!
We landed in Bangalore for the second time in two weeks and booked a large Uber which took us home to Rina's house where we spent the next two days.
On Monday, I dropped by our offices in Bangalore to catch up with the team there and grab lunch at a pretty good restaurant/microbrewery near the office.
Return to London
The flight from Bangalore to London is at 7am, which meant that we hardly got any sleep the night before. On Rina's advice, we booked a car with Savaari to take us to the airport. We set out at 2.30am as the journey takes well over an hour. We hired two porters to take our huge number of bags and I must say that everything in Bangalore is more expensive than Pune!
Check-in with BA was smooth and we made it to the lounge where we spent the next couple of hours before our flight back.
Once again, baby was a well-behaved and happy girl. The two of us went out for a short walk in the plane and I chatted away with a few fellow passengers and the air hostess.
Our bags came surprisingly quickly at Heathrow, which means either traffic levels are yet to rise or all the baggage issues have now been resolved. We booked our cab home after collecting our bags. This gave us enough time to pick up some essentials at the M&S and also to feed the little one.
And, soon after we reached home, we all fell into a deep sleep.
The END.