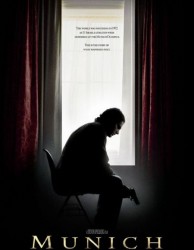 In 1972, during the Olympic Games in Munich, while the world watched, eleven Israeli athletes were taken hostages and subsequently murdered by Black September, a Palestinian terrorist group.
Munich is the story of Israel's response (which came to be known as the Wrath of God) to the Munich Massacre.
Directed by Steven Spielberg, the movie stars Eric Bana in the lead role of Avner, a Mossad agent sent to avenge the death of the athletes.
He is joined with four specialists to help him complete the mission.
What follows is detailed planning as the five set out to assasinate eleven persons identified in the crime.
Spielberg as usual excels as a director. The story line is amazing and the acting spectacular. I will confess that I went expecting the movie to be boring, but it turned out to be far from that.
The movie is a long, almost three hours, but not once did I find it boring.
There are no unexpected twists, just a straight story line, to the point.
The movie may not appeal to all. But, if you are the one who likes serious movies, then this is one you shouldn't miss.
My rating: 8/10
(Visited 129 times, 1 visits today)