Went over Melody's house around 9.45pm last night and as usual she wasn't ready!
We finally left only past 10.30pm from her house and she decided to go to Jimmy's Kitchen. Well I wouldn't go to that place so I found it very weird that she wanted to go there. Well, it was all a dirty joke.
She made me stop there ask them where to park and ask if they have a valet. Well a place which doesn't accept a card would definitely not have a valet and so I refused to ask him that. Well anyway, it was enough of an embarrassment.
And when she couldn't control it anymore burst into laughter and told me it was all a joke and that she had a reservation at the Taj :O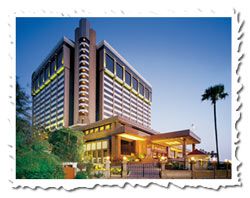 Another joke? Well not really. She didn't have a reservation there, but we did go to Taj Land's End.
Had a good Chinese meal at Ming Yang (hope I got this right).
Food is good and so is the service. And the Honey chicken we ordered was good at first and sweet later on. 😀
We wound up past 12 and I headed home soon afterwards.
Had a great time big sis. And it is very bad to take revenge because I made you infamous 😛
So when next 😉 ?