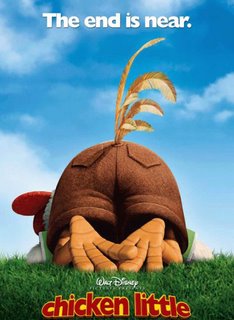 Didn't plan on watching this one. Didn't expect much from this animated flick. But it was fun!
After Chicken Little causes widespread panic–when he mistakes a falling acorn for a piece of the sky–the young chicken is determined to restore his reputation. But just as things are starting to go his way, a real piece of the sky lands on his head. Chicken Little and his band of misfit friends, Abby Mallard (aka Ugly Duckling), Runt of the Litter and Fish Out of Water, attempt to save the world without sending the town into a whole new panic.
I will admit that inspite of being way too old to watch this movie I liked it. The movie is well backed by a good soundtrack. The story is really childish but it does have a few funny scenes.
But, I wouldn't really recommend this movie unless you are taking your kids for it or if you like animated flicks.
My rating: 6/10