This year has been a relatively eventful one when it comes to holidays… also expensive! I know I haven't blogged much about personal life, but this event definitely warrants at least one post as I've always wanted to come down for a holiday to New York and this one has eluded me for several years. New York, I'm here!
Ashwina and I took our annual holiday to India in March this year. We stayed at the ITC Maratha in Mumbai for more than a week followed by a trip to Mangalore and then Pune. We then had two weddings to attend – one in Athens and the second in Helsinki. But, I must admit that I've been waiting very eagerly to come to New York.
We were quite late in getting much of our booking in, but after much research, we booked some premium economy tickets on British Airways and AKA Wall Street.
The flight
We did get lucky at Heathrow when we found out we were upgraded to business! Nothing has a better feeling than getting upgraded for free. The flight was comfortable although I had to do a bit of work given I'm on holiday and on the road (Yes. I get the irony).
As always the BA crew was nice and helpful especially when I desperately went hunting around for coffee, popcorn and water in the middle of the flight. Unlike many people, I'm a big fan of plane food – probably cause it's not something I get normally on the ground. So, I did eat and drink pretty well.
The arrival
Given our first trip into JFK, I was curious to see how old the airport was and looking at the infrastructure at the airport (this is where I mention it is my bread and butter), you can clearly see the need for investment at JFK. We stood in a long but patient and fast moving line at Customs and Border Control where we met a friendly officer who asked us a few questions before letting us through. Luggage did take a quite a bit of time which was rather surprising and thanks to four wheel suitcases, we didn't need to figure out the entire trolly borrowing confusion.
We found ourselves in a very typical NY yellow taxi and we set out to Wall Street. Ashwina says she can see the glow in my face despite me tired thanks to the last few gruelling weeks of work and travel and very little sleep.
Meeting friends
We aimed to make the most of the evening and went up to Greenwich Village to a quaint cafe called Giulietta's to meet Michelle and Jamie, our good old friends from the Irish trip many many years ago who very sweetly came to New York to meet up with us. Ended up spending good portion of the evening with them surrounded by good music, beer and food.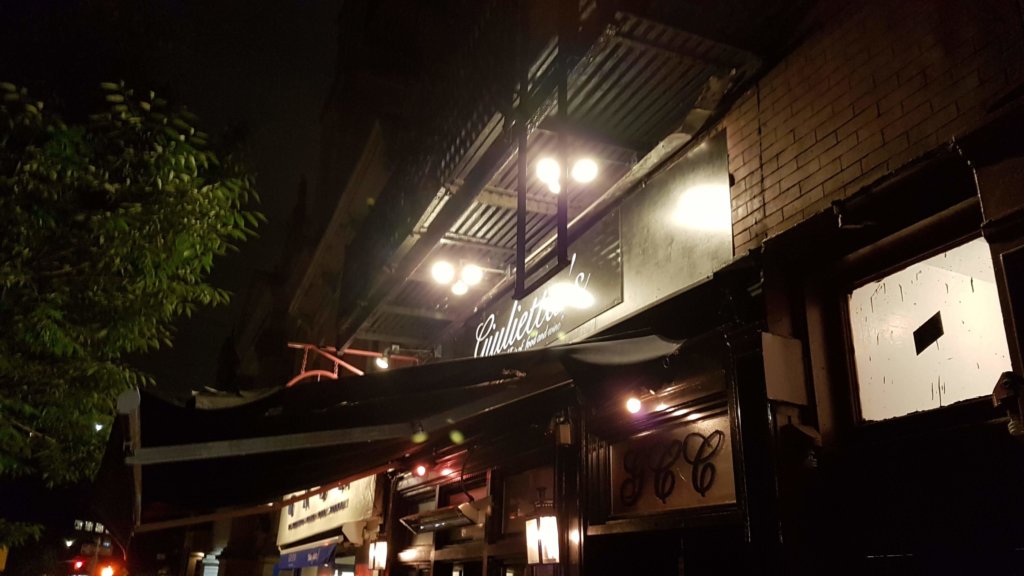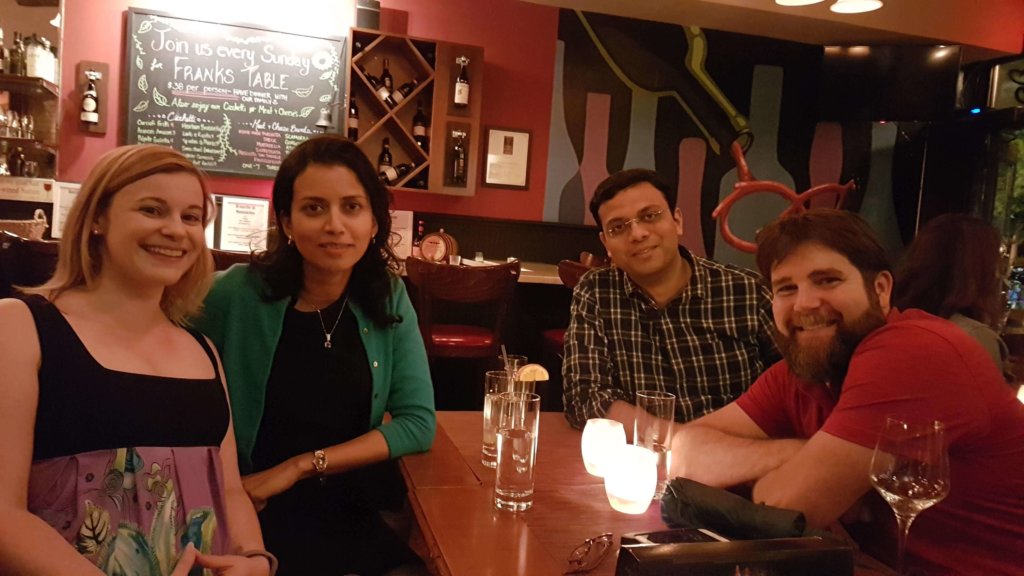 The only downside of the evening was us struggling to figure out the subway system in New York. That is likely going to take a bit more travel to figure out. Any tips?
Next step is to explore the city and potentially Washington D.C. this week before we head off to Canada.