For some strange reason I took it into my mind yesterday to have pizza. Probably stems from the pact that it has been a long long time since I sunk my teeth into a pizza!
I was initially interested in asking for a pizza delivery from Smokin' Joe's, but instead we chose to catch the 7.15pm bus to the Pizza Hut in Aundh. Reached there around 8 and ordered the Golden Surprise.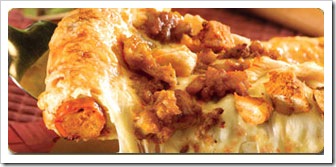 A few years back Pizza Hut had introduced the stuffed crust pizza, stuffed with sausage or cheese. This was something I would order every time I went there to eat.
Then gradually the sausage stuffed pizza's went missing and after a while the entire stuffed crusts were unavailable.
Well, Pizza Hut is back with the same, under the new brand "Golden Surprise".
We ordered the Chicken Supreme between three of us. This was also accompanied by two pitchers of Masala Lemonade, some vegetarian pizza and then a small Chicken pizza (which had more vegetables than chicken!).
After a good deal of eating, we finally, paid up a huge bill and then dropped in to the Natural Ice cream next door. Picked up an ice cream each before we walked back, waited for the last bus and headed back to college.