What is the difference between the three was the second question that I was asked at the interview today. I'm hoping somebody gives me a convincing answer to this in the comments. Because, honestly, I'm clueless.
As, I mentiond, today I had the GDPI for XIM, Bhubaneshwar today; the venue was St. Xavier's College.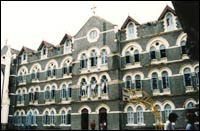 The group discussion topic was Union Budget 2007. I wasn't as prepared and the rest of the folks were, and my basic knowledge turned out to be a big negative factor.
The interview was so-so or that is my evaluation for the same. But for the above question where I stumbled, minor confusion over the March 2006 tax that I paid and not knowing the various parameters for home loans from the bank's perspective, the rest of the interview was smooth.
Now, I await the results, which are expected around March end, or early April. If they are in the positive, I'm going to be very confused about which college to choose.
If negative, well… you know where I am off to.
Btw, "What is the difference between Science, Engineering and Technology? Give me a layman's example of it"