Better Search just got better with the latest release. I've added custom post type support, added BOOLEAN mode support and cleaned up quite a bit of code. If you haven't heard of this plugin yet:
Better Search replaces the default WordPress search engine with a more powerful search engine that gives search results relevant to the title and content of the post. This means that visitors to your blog will find will find what they are looking for quicker than if you didn't have Better Search installed.
Better Search uses the same algorithm behind Contextual Related Posts to get your visitors to your WordPress blog highly relevant results.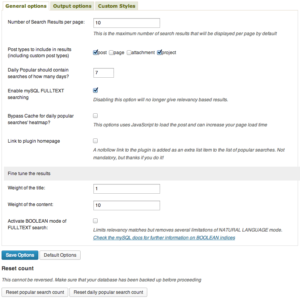 New in Better Search v1.3
Modified: Revamp of admin interface of the plugin
Added: New option to activate BOOLEAN mode of mySQL FULLTEXT searching. Check the mySQL docs for further information on this
Added: Custom post type support. Now choose what visitors are allowed to search
Added: Links in the search heatmap are no-follow by default. You can turn this off in the Settings page
Added: Option to make make heatmap links to open in a new window
Added: Option to turn off the display of the heatmap on the results page
Added: New CSS classes for heatmaps on the search results page – heatmap_daily and heatmap_overall
Fixed: Possible cross-site request forgery issue in the Settings page
Download Better Search v1.3

Visit Better Search plugin page
(Visited 568 times, 1 visits today)