Today was the big day again, i.e. big for nearly two lakh students who took the CAT today.
I had my centre at Guru Nanak College in Sion East. Never heard of that place but was confident of getting there.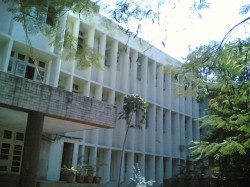 Left early and was there by 9.15am itself to find a large number of students already there, some studying, others chit chatting.
My class was on the fourth floor and with no lifts that meant a lot of climbing.
Had my seat on the very last bench which turned out to be dusty and was very very irritating.
The folks there were a lot stricter this time (wasn't even allowed to keep my pencil box).
The paper started only at 11 am. Maths and English were good however my Data Interpretation was a mess. Well, I'm not getting through this time. CAT 2006, I may come!
That's it for today I guess. Was supposed to meet Madam C but she's not keeping well. Get well soon my honey.
Will rest a bit today. Have to go to mass in the evening. Today is Christ the King feast.
So until next year…