As I mentioned last week, I took one last holiday before my MBA course begins to visit Goa for a week along with some friends.
We had booked tickets via Paulo Sleeper Coach. This is my first trip to Goa and also my first travel via the sleeper. We booked the upper beds in the Volvo and realized that was a big mistake.
For one the head room was too little. As a result we couldn't sit up straight and had to lay down or risk breaking our necks by bending them for too long. Added to this was the shoe rack which could take only one pair of shoes. We took the easy way out and hung the shoes at the window (see the right portion of the above picture on the right).
As for sleep, well we didn't get much of that because it wasn't very comfortable when you wanted to turn in your sleep. We did have a small stopover at some place for a late dinner and few stops to relieve ourself in the trees!
Must say the rest of our group were in a much better position coming by train.
Anyway, we landed at Mapusa a little past 9.30am Tuesday and picked up bread for our lunch and dinner.
We then caught a bus from Mapusa to Thivim which is where this beautiful house is located.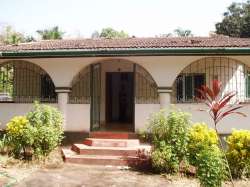 (Visited 908 times, 1 visits today)