That is just what the past few days have been like, with the exception of Monday, which I spent at the passport office. (Story comes later)
My Dad is down for a few days on office work so that has been a short break yesterday. Got myself busy playing with his iPod Nano (did I tell you I have the 30Gb??). Found an interesting software that does most of the dirty work for you and its a lot smaller than iTunes. Review expected next Saturday on Techtites.
Was awoken early by my Mom, so you must realize that I am extremely sleepy!
Anyway, was singing for a wedding mass in church today. Landed up being the only bass, which has become kinda regular. Reminds of a few years back when I used to sing bass all by myself. Am I good or am I good 😉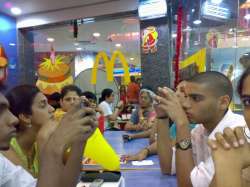 As usual we trooped off to eat after the wedding mass. Venue was once again McDonalds at the Hub.
Had a good McChicken Combo Meal =P~ and then came home at had kababs, sausages and chicken =P~
And tomorrow (or at the time of this post – today) is the SNAP, which is the entrance exam for SIBM and other institutes.
Seeing my recent performance, I really need to pull my socks up!
Wish me luck.