You just got to love our country for its lazy government officials, useless college staff and i-sit-on-my-ass-all-day-long-and-think-i-am-king clerks.
I haven't mentioned much of my brother on this blog, infact to many of you, this may be news that I got one!
My brother suffers from an eye problem from birth. It's called lazy eye or amblyopia.
At all the major exams, we have applied for extra time, i.e. get gets an extra half hour for each paper. With his T.Y. B.COM exams starting from next week, this week we decided to go to the university and apply for the same.

My mom (who gets tensed easily) made atleast two visits to the university to find out the details and came back with conflicting information courtesy the dear clerks or officers or what-so-ever they call themselves.
Since, I'm sitting at home bekaar, I'm the obvious candidate to get the work done and so Saturday involved me taking a trip to the university with my brother for the extra time.
The first step in the entire process is to stand in a long line till 11am to collect your entry pass. After this you wander through the corridors finding the room. It is interesting to note that the numbering of the rooms has no fixed pattern. You can't assume that the room after 25 is 26.
We did manage to find our room. The area outside was cluttered with thousands of papers of some application form or exam. The room inside was an equal mess.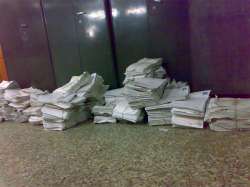 We ventured in and asked the man closest about the extra time. He asked to wait for the senior person who would accept our application and so we waited for a while for the same. The senior person sent us to a madam who would help us, but she very kindly sent us back to the first guy.
This person accepted the application and went back to the senior person, all the while I'm cursing under my breath at this inefficiency.
The senior guy tosses it back to the first person who asked us to wait for "half an hour" to collect the letter.
After 35 minutes I sent my brother in to collect the letter and he was asked to wait for "sometime". We waited for another half hour and asked to wait for some more time.
At around 1am (a good 90 minutes since we were asked to wait for half hour) I realized their breaking for lunch. So I rush in and managed to get the letter signed from a person who was supposed to. The letter goes back to the madam who very conveniently told us that it was her lunch break and I should be back by 2pm.
Ofcourse, I don't eat lunch, now do I. Anyway after a good wait of another hour, in which I busied myself in playing sudoku on my cellphone and taking that single photo when I had the chance, we were called in and given the letter!
The first man, who was the nicest of the lot apologized for making us wait. I said thanks for atleast getting the job done, took the letter and ran away before they make us wait some more!