Have you had a chance to check out the new version of Contextual Related Posts. In this release I have incorporated several features that many users have requested.
If you've been using another related posts plugin, do check out Contextual Related Posts. It is one of the most feature rich related posts plugins for WordPress with support for thumbnails, shortcodes, widgets, custom post types, caching and CSS styles.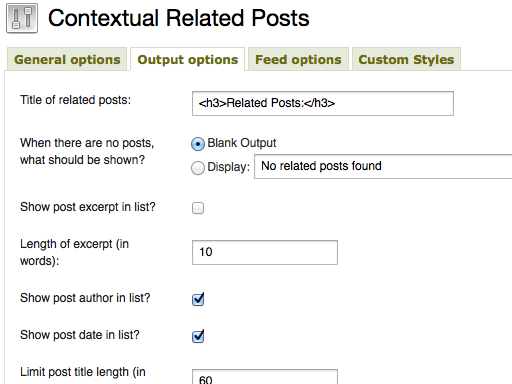 Changes include:
New: Option to choose between using CSS styles or HTML attributes for thumbnail width and height. HTML width and height attributes are default
New: Filters crp_title and crp_heading_title can be used to customise the Title of the posts and Heading Title of posts list respectively. Check out the FAQ for further information
New: Option to add the author to the list of posts
New: Options in the widget to show author and date
New: Bypass cache option for echo_ald_crp. This is the default option. You can force the cache using echo_ald_crp($cache=true)
Modified: Shortcodes are now stripped from excerpts
Fixed: Lists for the widget and for in-post have independent caches to prevent overlap
Modified: Saving widgets settings will clear the widget cache
Fixed: Plugin will now create thumbnails from the first image in gallery custom posts
Fixed: Uninstall script should now clean the cache as well
If you have any questions or queries do head over to the support forum. It's the best and quickest way to get your queries resolved.
Download Contextual Related Posts
(Visited 544 times, 1 visits today)