Yesterday was dinner with my dad's cousin and his family. Before that we went to a local optician to get my specs repaired, only to be informed I will need to change the frame.
The frames and specs in Muscat are much more expensive than India and I was rather reluctant to get a new pair. That's when I got a brilliant idea. Why not pick a pair of contact lens?
The monthly pack with the solution and making a new frame in India works out less expensive than making the frame here. Also got the lens pack immediately 🙂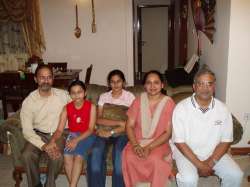 After a brief stopover at their place, we had dinner at Golden Spoon which serves Indian Chinese food 😉
Next stop was icecream at a joint there itself. On our way back I realized that I had forgotten my camera at the restaurant. Made a quick stopover to get it back (thankfully without any problem).
Second phase of shifting has begun today and our house is in a real mess now. All the cupboards and beds are dismantled. Most of the furniture will move today.