Some of what I planned this weekend didn't happen.
Began this weekend by not going for choir practice on Friday (Had originally intended to go).
Saturday was off to the doctor for my Dad's work and then we went to Better Homes in Andheri E to look for a sofa cum bed.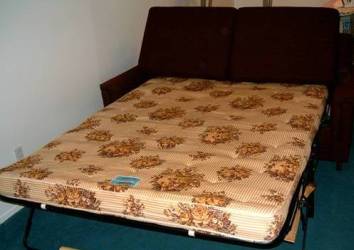 (not this one)
Saw quite a few. Also visited showrooms in the West for the same. We have narrowed down to a few, but I am not sure if we are actually going to make a purchase this time.
Had planned to go for one class in the evening, but actually didn't end up going because Dad and I had to go to Mahim once again.
We had planned on checking out some table fans on the return journey, but dropped the idea. I have realized that I need more air circulation in my computer cabinet. I have noticed that whenever my house fan is off the temperature of the hard drives increase and when on, they automatically decrease and we are talking relatively lower amount of breeze.
A dedicated table fan will definitely make a good difference.
I plan on visiting Crawford Market or maybe just shops around Andheri station to pick up one. Mumbai folks, any suggestions?
Went for the 7pm mass yesterday. The singing was good and this time I didn't mess up the Prayer after Communion 🙂
Went for my AIMCAT this morning like a good boy. This was an OK paper. Still have to total my marks.
There were bowling plans this evening, but I am currently here blogging 😐
(Visited 193 times, 1 visits today)