Elise: Invite me to dinner, Frank?
Frank Tupelo: What?
[she gives him a look]
Frank Tupelo: Would you like to have dinner?
Elise: Women don't like questions.
Frank Tupelo: Join me for dinner.
Elise: Too demanding.
Frank Tupelo: Join me for dinner?
Elise: Another question.
[Frank thinks for a moment]
Frank Tupelo: I'm having dinner, if you'd care to join me.
[Elise smiles at him]
Am no expert on asking anyone out to dinner, so this is definitely not something I tried! But, this quote definitely stuck out in this movie.
The Tourist tells the story of Frank Tupelo who meets the lovely, gorgeous, stunning, beautiful (…) Elise on a train from Gar de Lyon to Venice. Little does he know that this meeting would make him target of a mobster and the British Economic Police.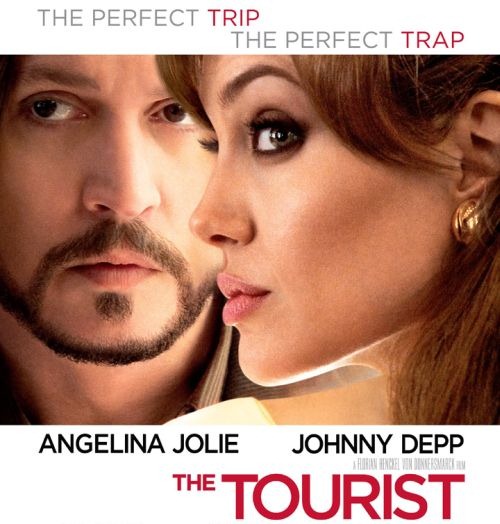 I will admit that I'm a bit partial to movies with Angelina Jolie and Johnny Depp. So, putting them both in a movie throws my partiality metre off the charts! While I try to be impartial, I must say that the story line was well written. I did guess the ending, but then who wouldn't?
Depp is at his usual brilliant self. Cool, calm and witty, you can see glimpses of Captain Sparrow in this role. Angelina is her usual beautiful self. The first 15 minutes of the movie has her walking with minimal conversation and the elegance at which she does this will not let your eyes leave the screen.
Rating: 8/10