Went for mass yesterday at Ghala Church. I still have to get used to weekends being on Thursday and Friday and not our traditional Saturday-Sunday. Saturday-Sunday seems so much weekendlike!
Anyway, Ghala church has been the place we have gone to for years and it is still the same as it was. Mass was good, though we did reach a bit late. And everytime I listen to the choirs here, it makes me realize that we still need a lot of practice.
Photos taken, but they will all go online once I return to Mumbai.
Awoke rather early today on vacation standards, viz. 8.45am :O
Dad goes for the fellowship meeting of the Oman Christian Fellowship at Ruwi. Wasn't really different from our Catholic Praise and Worship.
On our return journey Dad took me around our area, to the beach, the water treatment plant and the bungalows there. Have snapped a good number of pictures.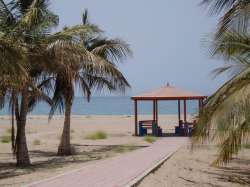 Going to make the best of the big 512Mb card in my camera and take a lot more pictures 🙂
Theres a bachelor party in the evening in our place, so I am going to get some sleep now.
(Visited 173 times, 1 visits today)