Part II of A Tale too many: Trip to Lonavala
Struggled to contact Abhijeet (AJJ)but for some reason his cell kept showing unavailable.
Was able to get in touch with Sumir and somehow he managed to contact AJJ. Had also arranged with Sumir to meet me in case AJJ was unreachable.
Set off by rick around 8.00pm and was there at Nirmal Lifestyle in Mulund by 8.45pm.
AJJ was waiting there. Why not? Afterall he and Sumir were getting a treat for my MT results.
We decided to goto Sachin's for dinner. A place a bit on the steep side. Food normal. Ambience sporty. Not some place I would normally go to. But, we were evaluating.
The three of us brought up a nice high bill. They won't ask for treats again I hope 😉
Was able to goto bed only by 12.30am. The flat in which AJJ stays is a nice one. But, their bai has been on leave for a while now. 😛
Woke up early on Monday morning and got ready. Then we set off to catch the car near Thane Naka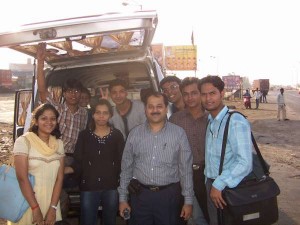 Above is a pic of us in front of our Qualis near McDonalds while we waited for the other Qualis.
We reached Lonavala by 8.45am, right in time for a good breakfast =P~
Immediately after breakfast we had the lighting of the lamp and the start of our training programme. No, I wasn't in Lonavala for a holiday 🙁
Had a good lunch and a good dinner, guess a bit too good because the next morning was my usual bad stomach.
Add to it, the AC in the conference room was so cold that I froze and by the afternoon I had a slight fever and by evening a high one.
Slept through two sessions (in my bed in my room and not the conference hall) and later was taken to the doctor. By then my fever had gone but the body ache and stomach probs were still there.
Was a nice doctor and my morning on Wednesday I was feeling much better, though a bit groggy due to the medicines. (:|
Came home by Volvo right upto Andheri because both the Qualis were full. So, had a nice comfortable journey home and didn't have to spend much money as well 🙂
Made a new acquaintance who was new to Mumbai and headed in my direction.
Came home and rested the day out.
This brings me to the end of Part II. Stay tuned for Part III, which is life after Lonavala.