Within just two weeks another tragedy has hit Mumbai.
After heavy rains last week that brought Mumbai to a standstill and we were just resuming life as normal we faced riots yesterday when the Shiv Sena went out on a rampage shutting shops and pelting stones and burning buses all over Mumbai and Maharashtra.
And this evening the Mumbai was rocked by eight serial blasts at Borivili (two), Khar, Meera Road, Matunga, Jogeshwari, Bhayander railway stations and on the Khar-Santacruz subway.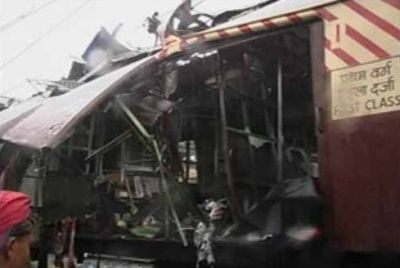 Read more about the situation from IBNLive.
This isn't the first time Mumbai has been rocked by blasts. Everyone remembers the 1993 bomb blasts as well as many others that have occured since then.
Folks at my place are safe. Mom reached home an hour before the blasts and I don't take the trains.
Couldn't get through to home or vice versa because all the cellphone and landline networks were all jammed. And the horrible traffic (made worse by the sorry state of the roads) resulted in me having a very worried journey home. Reached here by 8.30pm only.