After two travelling days in Goa, we didn't have any plans for the third day and so decided to take the day off and recuperate.
We spent the whole morning and afternoon at home, though Crispin and Ruth did pay a visit to the fields which two of us visited later.
You must note that I am and have been a city boy all my life, and definitely have OCD when it comes to keeping myself clean! So, walking through a cow dung ridden field was pretty much a major nightmare for me.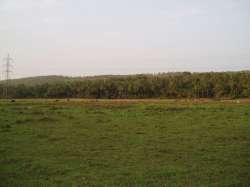 The fields were huge, stretching in all directions. They aren't normally this green at this time of the year, but due to recent showers a month back, the fields still had a good deal of grass. Grass brought the cows and buffaloes grazing as well as some geese (or were they ducks?) besides some goats.
The sun sets quite early and the lack of good lighting results in darkness setting rather immediately. I did manage a picture of the setting sun, which I think looks really cool. Feel free to use it as your wallpaper 🙂
Before it got completely dark, Crispin and I ventured up to higher ground, where the chapel is, in hopes of getting a signal for the internet. Got the signal, but the speeds sucked as expected so after almost a frustrating hour, we returned.
The rest of the evening was as lazy with dinner and quick sleep. The next day we visit the Mapusa Bazaar.