If you were expecting Gulliver's Travels to be a serious depiction of the book that Jonathan Swift wrote, then you will be very very disappointed.
The movie is a comical depiction of the character, played by Jack Black. When Gulliver takes up the assignment to go visit the Bermuda Triangle, in a bid to impress Darcy, little does he realise that he would land up in an island with many tiny people. He soon wins the hearts of everyone out there and thus begins the story of lies and deceit.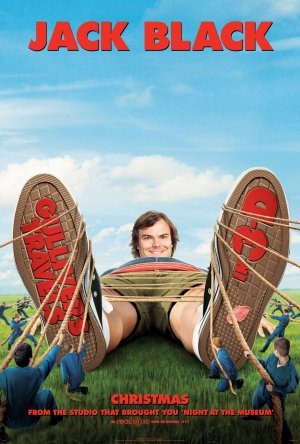 I watched the movie in 3D and it did add to the viewing experience. Jack Black plays his usual self from the days of School of Rock, and I will admit that he paid the role well. The movie makes a pitch of many of Fox's major movies of the 20th century. The other actors play their role as supporting characters of Mr. Black. I recognised that Lilliput was shot in Greenwich.
I'd like to write more of a review, however, there isn't much to say about this movie. The movie is a one time watch. But, I wouldn't go far beyond that.
Rating: 5/10