One of my closest friends (who now lives at the other end of the globe) Nikhil's sister is getting married tomorrow. As part of the series of functions, yesterday was the Sangeet. The sangeet seems to be along the lines of our roce.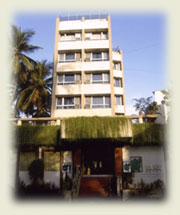 The reception was held at Hotel Royal Garden in Juhu, which turned out to be a nice hotel. Had to be knowing Nikhil's folks…
I thought I would be late but guess 9pm wasn't late enough. Folks I knew soon started tripping in after that so I had my company.
Got a picture of the bride and groom to be. Did I mention that having an N73 is very handy?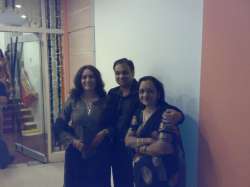 The highlight of the evening was a small dance performance that Nikhil participated in. If I had known this I would have come prepared with my handy cam…. Well as I promised Nikhil here is one picture of it.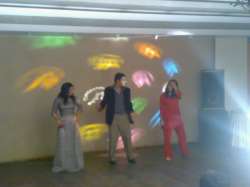 Ate a great deal courtesy one waiter who missed us once and over fed us after that. He even ensured that Cloreisha got a glass of juice to wash down her caramel custard 😉
Overall had a great time. Got home only post 12am. My legs aren't sore because I didn't dance too much. Wedding tomorrow…
(Visited 218 times, 1 visits today)