I last wrote a movie review more than two years ago. While I have watched several moview since then, I not felt the inclination to write about any of them. Until now. Ashwina and I set out to get some dinner at Chai Ki – one of the restaurants we frequent – after a regular Sunday evening mass. However, when we got there sharp at the time of our reservation, we were told the wait would be another 30 minutes. You're kidding me, right?
So, instead we decided to go catch Money Monster at the Everyman Cinema next door. It was an unplanned decision and since IMDB said the movie was a 6.9/10, we decided to take the risk. And, how could I say no to hot dog and pop corn?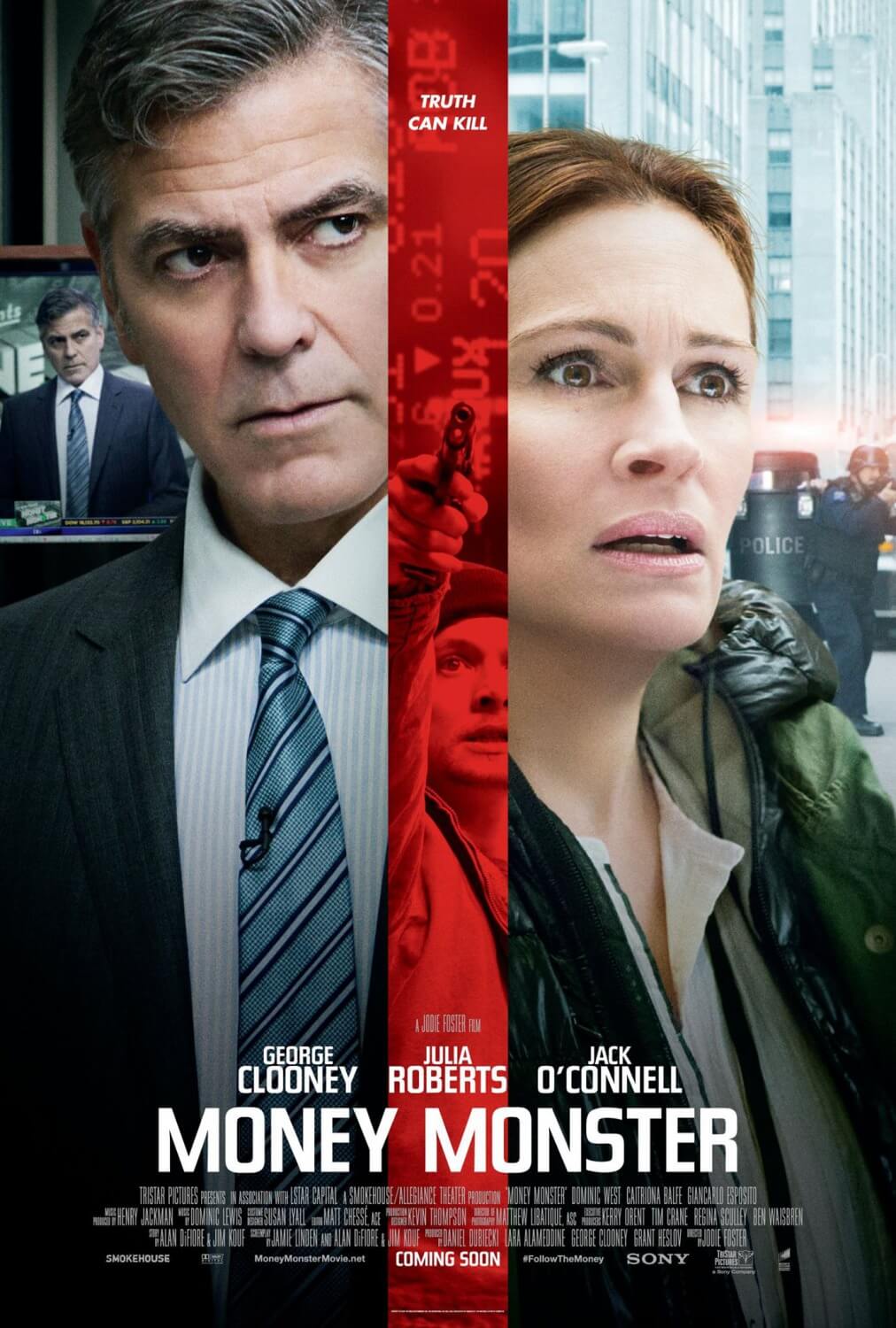 The poster above already tells you that Money Monster stars George Clooney (as Lee Gates), Julia Roberts (as Patty Fenn) and Jack O'Connell (as Kyle Budwell). It also  and Caitriona Balfe (as Diane Lester). While the former two don't need any introduction, for me Jack O'Connell is an unknown name and so would Caitriona have been if my wife didn't make me watch Outlander.
The movie starts off with an ever so charming Lee Gates hosting his show Money Monster designed to give you some stock advice. The share price of IBIS capital has taken a massive hit due to a computer glitch(?). All the it's investors have lost their money but the all-knowing (or so we think) Lee still attempts to convince you that the stock is on its way up. But, even before he dives into the details of why he thinks so, he is taken hostage by Kyle.
Kyle has lost his entire life savings (a full $60k) taking Lee's and is out to get an answer and possibly revenge…
Well, to find out the rest of the story, I strongly suggest going to cinema now and watching it.
The Cast
Money Monster has a good cast with a mix of known and lesser known actors. This isn't the first movie for George and Julia and hopefully won't be the last. Unlike Ocean's Eleven and Ocean's Twelve, they're not married and share the relationship of producer and news anchor(?). As expected, they do not disappoint with their respective roles and the chemistry they share.
Jack plays his role to perfection – A troubled young man with a plan attempting to get justice and some answers. Caitriona plays her supporting role trying to also figure out the reason the stock of her company took a plunge. Nobody knows, so blame it on the computer… In my opinion, she really does need to smile a bit more.
The Story
The end is somewhat predictable. It wasn't a nail biting finish. However, what the story does do excellently is throw in some great movies was mix up the plots within the grand story line. It threw in a few unexpected elements like Kyle's girlfriend's reaction, some interesting international dynamics and several funny moments that had the audience laughing. The trailer above paints a very serious picture and so the funny bits do make it a pleasant viewing.
In summary…
It's a very good and different movie to watch in today's cinema when currently you have Captain America and X-Men attempting to steal the spotlight and the audiences. Well, I still need to find the time to watch Captain America and I've not been very impressed with the trailers of X-Men. And, Hollywood hasn't impressed with its wide range of movies off-late. So, Money Matters is definitely welcome change from the super hero franchises.
Finally, if you have already watched this movie or plan to do so, I'd love to hear your reaction. As for me, I'll give it an 8/10.