Fast Five (Fast & Furious 5) is the fifth movie in the Fast & Furious series, which doesn't seem to end. But, then again, who is complaining?
When Dominic (Vin Diesel) gets arrested, his sister Mia (Jordana Brewster) and Brian (Paul Walker) are quick to break him out. They decide to escape to Brazil where trouble, in the form of Luke Hobbs (Dwayne Johnson), a federal agent who never misses his target and Hernan Reyes (Joaquim de Almeida), a powerful drug lord.
Not to be dissuaded, Dom and Brian decide to take on both opponents are quick to assemble a crew to get the job done.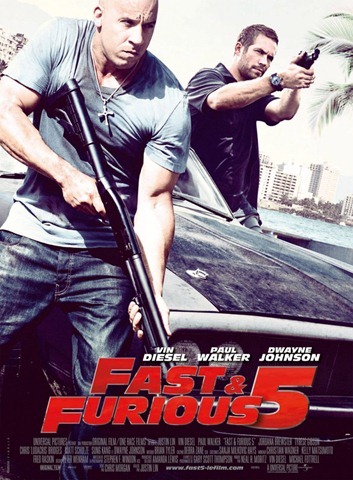 Source: MPoster.com
If you've followed the previous four movies, you'll recognise Fast & Furious 5 to be along the same lines. However, this one is bigger with a super star cast, intended to serve as the grand finale for Dom and Brian and possibly the start for Luke.
Fast Five isn't the most spectacular movie on the storyline front. However, the movie has a whole set of new stunts, some grand theft auto, big guns, gorgeous girls, a stunt-filled chase on foot and a super amazing car chase to take the movie to a climax! It also reminds me of those car chases in NFS or GTA, but with a greater degree of realism.
It was a great way to start off the summer with a high octane movie. But, if you haven't watched the movie yet, you should go out and do so. And, when you do, wait for the creds…
Trailer:
Score: 7/10