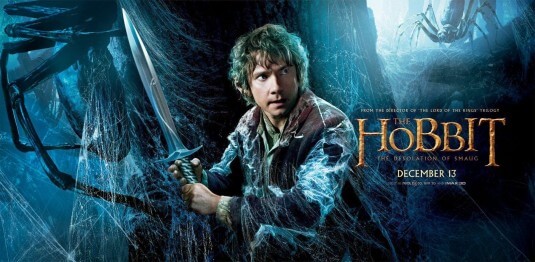 I never wrote a review of The Hobbit when I watched it last year. It wasn't as fast paced as the Lord of The Rings, but it definitely was an amazing movie to watch. I know Ashwina and I enjoyed every minute of it. So, we eagerly awaited for The Desolation of Smaug and caught the show a few days back.
The dwarves, along with Bilbo Baggins and Gandalf the Grey, continue their quest to reclaim Erebor, their homeland, from Smaug. Bilbo Baggins is in possession of a mysterious and magical ring.
If you haven't watched the movie yet but plan to do so, be prepared to spend 3 hours in the cinema. At 161 minutes, it's shorter than the first movie but it still is a long time to spend in the cinema. That being said, it didn't drag as much as the first and they did keep the tempo running continuously.
This movie introduces you to Legolas (Orlando Bloom) and Tauriel (Evangeline Lilly) and you have some amazing fight sequences with both of them against the orcs who continue to chase after Bilbo and the dwarves.
The cinematography is just spectacular which is in line with the Lord of the Rings and the first Hobbit movie. And being filmed in 3D definitely brings the action a lot closer. They have some good scenes involving Smaug and it is clear they have spent some good time getting it right.
So, if you plan on watching this, grab your popcorn and a large drink and definitely your 3D glasses to follow Bilbo on part two of his extraordinary journey. I'll be waiting for The Hobbit: There and Back Again.
Trailer