I will not agree with this statement always but in this case I will.
When I posted What is so special about this photo? I didn't expect it to get as popular as it turned out to be!
For one it made it as the No. 1 post on Reddit.com with 299 ups and 26 comments at the time of this post. Missed a screenshot at no. 1, but on the left is no. 2

Additionally, it got 46 diggs and 20 comments on Digg.com and also made it on del.icio.us Popular list.
Lastly, I have secured the no. 1 position on Indian Bloggers with hits over six times that of the site on No. 2.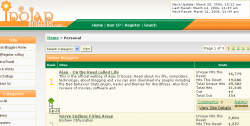 Well, what this actually meant was that my 200 unique visitors averaging blog was had 2,850 on Saturday, 9,295 on Sunday and over 4000 so far on Monday.
My bandwidth usage spiked so high that in the last 48 hours I have consumed almost 50% of my bandwidth (I have a very old account here).
This has made me realize that I have to move my site to another server. Have been contemplating and putting this for quite a while now. And have finally taken up the Corporate account at WebberZone Business Hosting Solutions.
I am currently moving the site there and a few comments may be lost during this transition.
My support forum will remain hosted here.
My demoblog where I test my themes and plugins now takes a new name. I have moved AjayDSouza.net from my WordPress.com site to the demo blog. It also takes on a new name. The old link will redirect you.
That is just about the changes happening right now. Expect a better look to the blog in the near future. However, no time limit for the same.