Watched Spiderman 2 at the IMAX Dome on Saturday, August 7.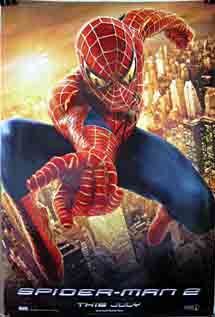 Quite a good experience it was, except that I paid Rs. 225 for it, which was way too high.
It did do justice to the first movie, though it definitely didn't live up to the quality of the first. The special effects were great. The acting was the same as usual, and I'm not particularly a great fan of Dunst.
On the way back home, I met up with the Kavitas and we went out to Pizza Hut in Hiranandani, Powai. Had to eat veg pizzas 🙁 because they are totally vegies. Reached home only after 11 pm.
Went to Melody's place on Sunday to clean yet another laptop, which was virus infected. Spent quite a bit of time there, and wasn't able to make it to the Leela Gallery for a painting presentation.
Mass was rather long and got over quite late. Met up with quite a few of my pals from church and reached home only by 8.30pm.
Caught up with yet another movie on Sunday night as well so had a late night sleep. And Monday was back to work!