A friend heard of Mumbai Times Cafe, which opened a while back in Bandra, near KFC. So, we decided to check out the place for dinner.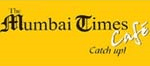 Parking in that area can be a pain, but we were lucky to find a spot for my bike. Mumbai Times Cafe is located on the fifth floor of Crystal Shoppers Paradise which is diagonally opposite KFC in the same lane.
We were greeted the moment you step out of the elevator and led to a table for two in the "sand" section. I call it the sand section because sand covers the entire floor out there. You also have a tiny canoe there as well. The place is built with the idea of dinner by a beach, I guess. You won't find one on the fifth floor though.
We ordered the Seafood Pulao, which is a mixture of clams (cockles), prawns and rice. It turned out to be a good deal spicy and this was washed down by mocktails and a margarita.
The quantity of the dish was really good for more than two persons and the service too was pretty good, which is always something I look forward to in a restaurant and sadly, there aren't many that fulfill this.
The prices are on the steeper side, but then again that's the case with most of the recent restaurants I've been frequenting 🙁
Anyway, I recommend this place if you're looking for non-veg food, especially sea food.