The latest version of my popular posts plugin Top 10 is now available for download. Existing users can quickly upgrade this from within your WordPress Dashboard. New users can get the plugin by searching for "Top 10" from Plugins > Add New.
Top 10 will count the number of page views on your single posts on a daily as well as overall basis. You can then display the page view count on individual posts and pages as well as display a list of most popular posts based on page views.
 New WordPress widgets
If you've been using the Top 10 WordPress widgets, you'll notice that you can now customise the widgets. This version consolidates both widgets into a single one and you have several different options available to you.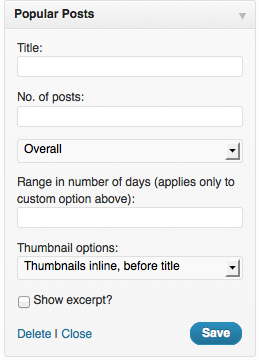 Change the drop down from Overall to Custom Time Period and you can switch to the Daily widget. Note that this upgrade will require you to re-add the Daily widget and update the preferences of your normal Popular Posts widget.
Custom CSS
If you've been using my other plugin Contextual Related Posts, you will be familiar with this option. You can add your own custom CSS code here that will allow you to style the output of the plugin. Check out the FAQ for various CSS classes and IDs available to style.
Maintenance options
Using this period of a long period of time causes your daily posts database to accumulate a lot of historic data. This has its performance impact, especially on highly active sites.
v1.9 brings you the option of regularly cleaning up the daily posts database at fixed intervals of time.
Future versions will include a more advanced cleaner that will retain select amounts of historic data.
If you're using more than 1 Day as your "Daily" option please do not use the scheduler as this resets the daily table when run.
Note: WordPress automatically executes the cron job when it is scheduled the first time. Hitting "Save Options" will clean your daily post table when the options are saved if you have the "Enable scheduled maintenance" active.
If you have any support questions, please post these in the support forum.
Summary of changes in v1.9
Added: Option to use timthumb to resize thumbnails
Added: New variable %overallcount% that will display the total pageviews on the blog across all posts
Added: Post thumbnails are now properly resized based on width and height settings in the Top 10 settings page
Added: Customise what to display when there are no top posts detected
Added: New scheduled maintenance to clear up daily tables and optimise performance
Added: Custom CSS code to style the output. Check out the available styles in the FAQ
Modified: New "default.png" file based on from KDE's Oxygen icon set
Modified: Dashboard list of posts now displays all the top posts and pages instead of the filtered list based on Settings.
Modified: Dashboard widget now has options to customise the widget. Old widgets have been deleted
Modified: When fetching the first image, plugin ignores external images
Modified: Minor performance tweaks
Summary of changes in v1.9.1
Fixed: Plugin will now only reschedule the cron job if there any settings are changed related to it
Modified: If timthumb is disabled, WordPress post thumbnails are no longer resized using timthumb
Modified: Extra check for post featured thumbnails to ensure that the src is not missed
(Visited 850 times, 1 visits today)