Hanna wasn't my first choice of the movie to watch on Friday the 13th. But, when we reached late for Insidious, we decided to give Hanna a go.
Hanna is the story of a 16 year old girl (played by Saoirse Ronan) who has been trained all through her life by her father (played by Eric Bana). She isn't home schooled like most other kids, but is excellently trained in multiple languages and the art of war. Until it was time for her to return…
Cate Blanchett plays the antagonist Marissa in the movie and for both Hanna and Marissa, it is either kill or be killed. As Hanna makes her way back to Berlin, she makes a few friends and several enemies, including Isaacs (played by Tom Hollander).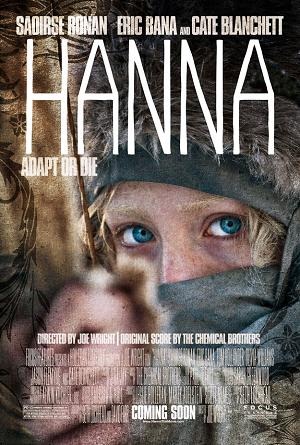 While Eric and Cate are well established actors, Saoirse doesn't have a long list of movies to her credit, but does a great job. It should be great to watch her upcoming movie The Hobbit.
Eric has a relatively smaller role to play and Cate does complete justice as the cold villain. You have to give Tom credit for his role as the crazy Russian assigned to the job of hunting down Hanna. Tom whistles The Devil is in the Details as he chases after her and now it will be stuck in my head for a while!
Check out the official trailer of the movie.
Rating: 7/10