I've released v2.2.0 of Where did they go from here. This update comes with new features, bug fixes and, most importantly, a rebrand of the plugin.
Starting v2.2.0, the plugin is called WebberZone Followed Posts and has a new home. This completes the transfer of yet another of my plugins under the WebberZone umbrella.
WebberZone Followed Posts
The rebrand of this plugin has been on my todo list for a long time. Although Where did they go from here was an accurate representation of what the plugin did, what it really did was display a list of posts that visitors follow on your site.
My hope is that with the new name, the plugin accurately represents what it does i.e. display followed posts.
Updated widget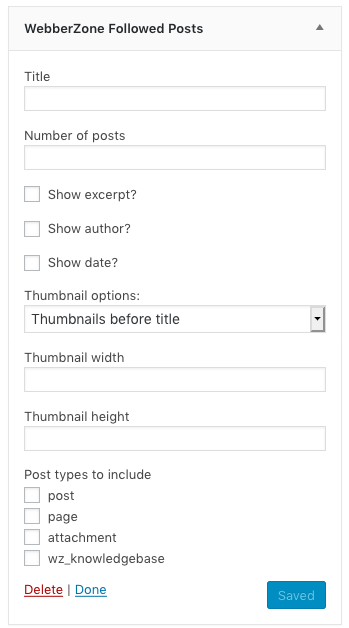 The main update in the widget is new options to show author, excerpt, date and post types. If you are already using the widget, please double-check and re-save the settings to ensure you get the accurate display.
All changes in WebberZone Followed Posts v2.2.0
Features:

New options to show author and date in the list. Find it under Output tab
New options in the widget to show author, excerpt, date and post types
New function wherego_get_referer() along with its corresponding filter

Fixed:

Fixed the error message that was generated on activation
Errors in tracker under PHP 7.2
As always, you can update the plugin directly from your WordPress dashboard. New users can find the plugin by searching for "WebberZone Followed Posts" in the Plugins screen.
If you've got any questions or require support, please make a new post in the support forum.