If there is one thing a geek needs, then it is a good internet connection. Now, that is one thing that has always eluded me and there is no chance of it changing in the near future!
That is one of the reason this blog has seen absolutely no updates for a long long time.
The past week and more can be summed up as follows:
Choir
Practice has been on in full force for Good Friday. We've had practice four times in the last week and things are shaping up.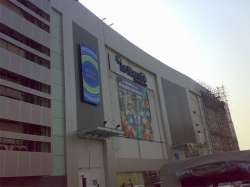 Had to sing for a funeral mass on Thursday at the Oshiwara Cemetery. Few of us from the choir decided to drop in at the "Mega Mall" just across the road. The place is still coming up and the only thing there was the super market. We weren't out shopping so just moved on to Inorbit food court.
Headed home and back again to choir practice.
Yesterday was Passion Sunday and we were singing for the 6pm mass. Father dropped the bombshell that we had to do the part of the crowd in the liturgy. With no prior practice, I think we carried it out well 😀
Computers
My internet connection sucks. I've been calling Exatt up every single day for the past two weeks to ask them to come fix the connection. I dropped in at the office today and waiting for the folks in charge to come. The problem is they have no clue how to fix the frequent switch hanging.
I've been considering the MTNL Triband, but my mom is too terrified about "incorrect" billing on their part. I've decided to chuck the idea. If my net is down, a cyber cafe shall have to serve as my resort.
On the computer front, my Dad was down last week and he brought me a Kingston U3 DataTraveler.
I am very impressed by the drive. Besides functioning as a normal 2GB memory drive, the U3 Software adds autorun capabilities with easy installation of portable software to run directly from my drive. I've got my browser and other software installed on the drive, so no privacy issues at cafes 😀
Dad also got me a 120GB external hard drive. It's small and portable and a real life saver. This will all be part of my baggage to SCMHRD in June.
College
On the college front, I received the results for XIMB. I'm 101 on the waitlist which is definitely not converting. Besides, I don't think I will be taking it up anyway. SCMHRD seems a better option after weighing in a lot of factors.
The SCMHRD Foundation course which was supposed to start on April 1 has temporarily been postponed. I've received the confirmation letter and receipt for the payment.
Also metup with the several SCMHRD folks from Mumbai on Saturday. Will save that for a small post later.
Personal
Accompanied a pal to town on Friday. Have been digging up some stuff about studies in Australia. Maybe in the future. Then again, maybe not.
Have also made plans for a holiday in April. Things are shaping out well. I'm not much of the holiday person with hardly any trips at all.
But, the holiday always makes for some good blog tales…